Dear Friends,
We are happy to report that Jahmoy finally had his corrective surgery last week! As you may recall, due to complications during labor and delivery, he suffered from cerebral palsy. Your donations have helped him greatly!
Now he is on the road to recovery, and we are asking that you help us to get him the rehabilitation boots so he can heal quickly and completely.
Please check out the picture of the medical boots he needs.
Thank you in advance for supporting Jahmoy on this journey to health.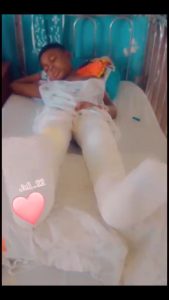 Pic 1: Jahmoy after surgery
Donate Now
Minimum amount is $
Maximum amount is $
Rewards